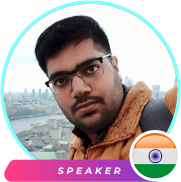 Google
Anmol Krishan Sachdeva, aka "greatdevaks", is an International Tech Speaker, a Distinguished Guest Lecturer, a Tech Panelist, and has represented India at several reputed International Hackathons. He is a Deep Learning Researcher and has about 8 publications in different domains.
He is an active conference organizer and previously has helped organize some of the most prestigious conferences like EuroPython, GeoPython & Python Machine Learning Conference, PyCon India, etc., and all of them were a huge success. He has done MSc in Advanced Computing (ML, AI, Robotics, Cloud Computing, Human Computer Interaction, and Computational Neuroscience) from University of Bristol, United Kingdom, and currently works at Google as a Hybrid Cloud Architect.
In the past, Anmol has spoken at renowned conferences and tech forums like KubeCon, PyCon, EuroPython, GeoPython, and got invited as a Chief Guest / Guest of Honour at various events.
He likes innovating, keeping in touch with new technological trends, and mentoring people. Additionally, his interest lies in Cosmology and Neuroscience.